Congradulations! You have stumbled upon my secret patch of my growing garden :o). Here you will find things of magical delight! Such as summoning spells and chants to call the fae and other fantasy beings. Along with enchantments and offerings you can make to the different types of fae for certain types of wishes!
Shhhh.....its a secret please don't tell! hehe its more fun to stumble upon it all by yourself....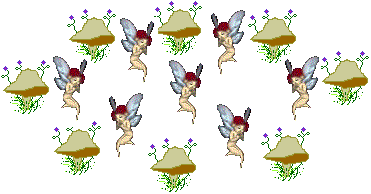 #16
"If You See A Faerie Ring"

If you see a Faerie ring,
In a field of grass,
Very lightly step around,
Tip~Toe as you pass,
Last night Faeries frolicked there~
And they're sleeping somewhere near.
If you see a tiny Faerie,
Lying fast asleep,
Shut your eyes,
And run away,
Do not stay to peek!
Do not tell
Or you'll break a Faerie spell.
~Author Unknown~
Spells:
"The Fairy Call-A spell for summoning the Faeries"
Sit where the cat sits. Cross your toes.
Close your eyes. And smell a rose.
Then say under your breath:
I believe in fairies sure as death."
Gadflykins! Gladtrypins!
Gutterpuss and Cass!
Come to me fairily
Each lad and lass!"
Taken from: http://www.worldoffroud.com
Summoning Spell:
Come out from your fairy bower
Come upon this golden hour
Come to us we beg you please
Fairy dust amoung the breeze!
Spell for discovering Tree-Spirits:
When the moon is round. In spring or in summer. Go to a place Where more than two But not over twenty Trees are growing, Measure their bounds By silent walking, Mark their centre And in it stand But make no sound; Listen and watch And you may find Green and silver Shadows flying From leaf to leaf, And a noise like water Or quiet talking; Strike three times With a stick of oak Upon the ground~Then you may see In every tree The falling streams And their silver hair, And their hands Like silver~flickering air; Their frightened emerald Eyes will stare Until you look away~Then though you stay For a year and a day,You will not see them again
Taken from: Fairy spells and Lore (see links) whom had taken it from: Valerie Worth in 'The Crone's Book of Words'
Dear Fairy,
I saw you flit and flutter by
Spreading your wings to the sky.
I saw you laugh and flirt your magic wand
Gracefully playing along side the pond.
I saw you do your mischief late into the night
Teasing with harmless pranks in spite.
I followed you to your fairy queen,
Made sure not to be seen
And listened close to what you had to say
Watched you dance and heard the music you play.
I wrote down how to find your secrete place
Drew out a sketch of your face
But I won't give you away
You're still free and safe to play
Dance away the night under the moon lit sky
Play your pranks and flit and fly
Weave your magic
Just know I'm watching and ecstatic
If you chance to let me in your fairy glen
The world might never see me again
~Akalie~
10/16/04

Echantments/Brews&Recipes:
~Fairy Brew~
-Recipe from: "The complete book of incense, Oils, and Brews." by: Scott Cunningham
Ingrediants:
3 parts rose petals
2 parts yarrow
1 part cinnomom
3 parts rose petals
1 part cinnamon
1 part nutmeg
1 part bay
1 part mugwort
":~Assemble your herbs, grind them manually, and put about a handful into a pot; Strain. Drink a cup before seeking your encounter and return what you do not use to the Earth.~"
Taken from: Fairy spells and lore (see links)
"A Recipe to See the Fae
On a Dawn morn or dusk eve, find a special bottle, a pretty one the Fae would like that is.
And pour into it
1 cup gathered spring or rain water
1 teaspoon of Pink Rose petals
½ teaspoon Lavender flowers
Add 3 Quartz crystals
Add 3 Amethyst Chips
1 pinch of Faery sugar (see recipe below)
Nine inch piece of pink ribbon
Now hide this away in a dark cool place for three days. On the third day, again at dawn or dusk, in a place you think you might spot the Fae, like an Oak tree, backyard or mushroom patch in the forest. Even a potted plant, herb or Flower will do. Tie a nine inch piece of Pink ribbon arond bottle neck. Next, close your eyes and sprinkle 9 drops over each eyelid of your "Faery Potion Water", careful not to get it IN your eyes! Next recite this Faery incantation and watch for the Fae. "
"Ribbon of pink, I just might think.
I would like to see the Fae today.
Special sight of Faery's flight,
Send to me the way today.
A sprinkle here a sprinkle there,
A secret spell I say today.
Wispy wings and little things,
Are what I'd like to see today."
PLEASE note this may need to be repeated to see the Fae, as they are VERY cautious little creatures!
= Written by MooN © 2ooo - 2oo1
Not my own this recipe taken word for word (hence me putting it in quotes) instead of me rewording it. So link to their site! http://www.moonsmuses.com/fae.html (hey cut me some slack its late....copy and paste is easy and nice right now and me being a writter i'm not one to say that but....i gave credit....)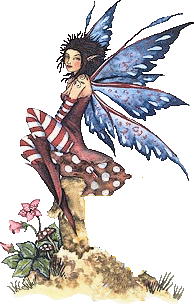 #14